Let's face two hard facts:
Only 9% of websites and articles get traffic from Google. (Ahrefs)
Even fewer, only 6% of websites and articles make it to the first page of Google (where all the clicks are) within one year of their creation. (also, Ahrefs)
Link building is not complicated, it's just difficult to do well and create a process that scales, especially when you're just starting out.
But what if I told you that:
You can be a part of that 6%.
You can build high-authority links to your website, even if you're just getting started.
And you can do it, by sending just…. 👏 one 👏 email 👏 per 👏 day.
100% chance this is your reaction right now:
SKEPTICALLLLLLL.
Read on, and I'll explain how I do it, examples of other people who do it, and how you can do it as well. PLUS, a walkthrough of exactly how I'd do it if I were you.
My Link Building Strategy:
First, please understand this vital first step…
In 2010, I was just starting my journey online and, having read Pat Flynn's Smart Passive Income blog, I started with a little WordPress site around something I was passionate about.
In my case, this was Brazilian Jiu Jitsu.
I read everything I could, implemented it, and then reached out to Pat to share what worked for me.  Pat ended up inviting me to discuss review it with him as one of the first 50 guests on the SPI Podcast.
It's meta, but the irony of the email I sent Pat was that I was using a 2020 link building strategy, but we spent all of our time talking about how link building worked back in 2010.
One of the most important things we discussed in that interview was how I was building links to my fledgling blog.  I credited much of my success to Pat's 2010 article called THE Backlinking Strategy that Works.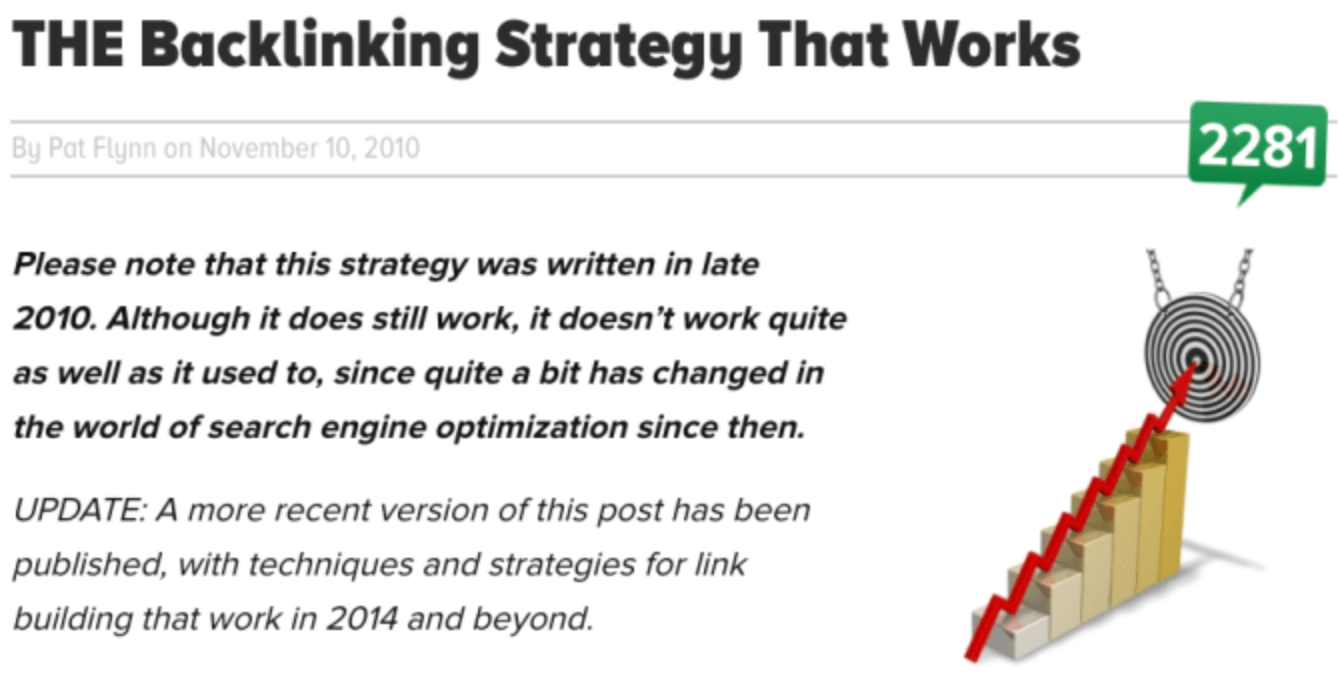 Over two-THOUSAND of Pat's readers have commented on that article, including me:

That little comment was my start in SEO.
Since that time, I've built and sold my jiu jitsu blog, a jiu jitsu apparel business, built up my own SEO client base and even left teaching high school after a decade in education to lead the SEO team at an incredible web design and marketing agency in Chicago.
When I tell you that SEO has radically changed my life, I mean it.
And not just because I'm selling some sort of course on SEO or building traffic to my SEO blog.
I believe ANYBODY can use SEO to build an endless pipeline of clients, customers, and (eventually) raving fans that help spread the word about you and your products and services.
I started pursuing SEO so I could build those assets that brought new site visitors in on autopilot and, if you read this entire article, and implement it, just as I did, I promise you'll find the same results.
You just have to do three things:
Read the article.
Take action on it.
Leave me a comment if you have any questions.
Remember, link building is a moving target so I refuse to write a strategy that will require a new article in four years. I am giving you a strategy that worked forever, not just for now.
Let's do this.
First, do Links Still Matter For SEO?
In short, yes. I've worked with clients ranging from local window washers to global cycling companies and $100M venture-backed startups.
Nothing increases rank (resulting in more traffic and conversions) like backlinks.
But you don't have to take my word for it.
In their study of over 2 MILLION keywords, Ahrefs found that links have the highest correlation to search rank of all rankings factors: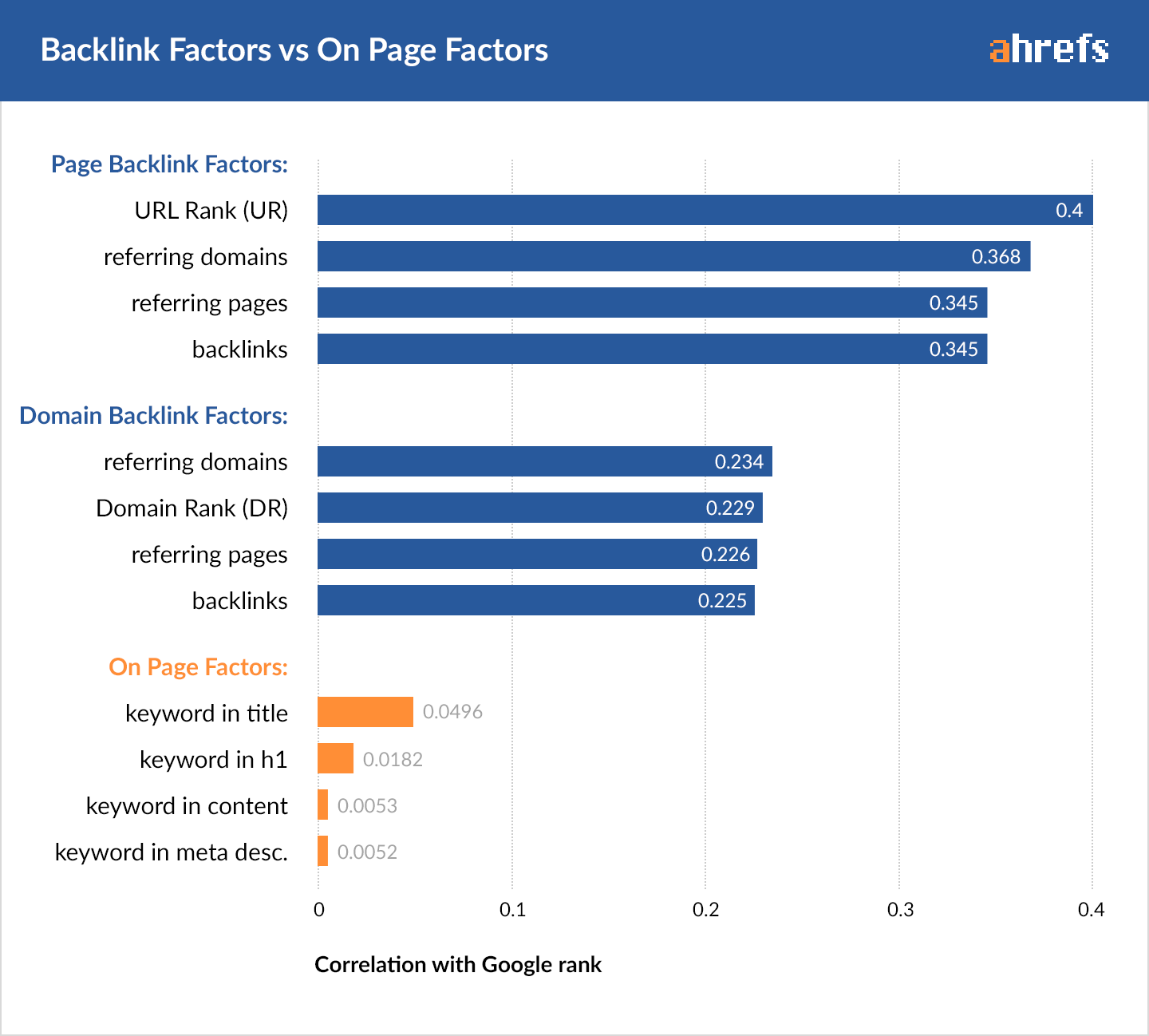 If you want your website to rank, you're going to need other sites to link to you.
But how do you get those links? First, let's review what still works
What Link Building Strategies Still Work From 2010 and 2014:
If you're like me, your first question is, Brendan, what still works from that first backlink strategy article?
Here's the one thing that the 2010 Backlinking Strategy still get's right:
Content Matters (Especially for Link Building). Period.
We know there are over 200 different rankings factors in Google's search engine.
One of the major factors is, and has always been, your content.
According to Glen Allsopp, there are a few types of content that attract links (further helping you rank), such as:
Survey Results
Rare interviews
Super-powered list posts
Epic Guides and Tutorials
Sharing a strenuous journey
Exhaustive comparisons between multiple options
Begging other sites for backlinks sucks. The better your content is, the less you have to beg. If it's amazing content, you barely even have to ask for links.
Links Matter As Much As Ever (As Long as They're the Right Ones)
A second ranking factor that has always mattered (second only to the words on the page), and still does today, is backlinks (links from other websites to yours).
Recently, we've seen links (by number) matter less than in previous years and we've seen links (by quality) matter even more.
If you follow Glen's advice and create something truly link-worthy, then we have to start asking ourselves how to get those links.
But real quick, I want to share with you my own link-building horror story so you don't make the same mistake.
What Doesn't Work Any More in Link Building
First, a quick story:
I was freaking out.
I'd just sold my apparel company and a friend asked me to help him with SEO.
I knew how to write great content, but I wasn't sure how to scale link-building.
So I followed the advice of the gurus out there:
Create wow content
Reach out – resource page, link roundups, and broken link building,
I reached out to link roundups and resource pages thinking that if I just emailed them, they'd add my links. After all, that's what all the "backlink guru" articles said.
Just send them an email using the script on the page and 5-10% of them will link to you.
It sounded easy and I knew the ways I'd built links in 2010 didn't work any more.
So I did. I sent out hundreds of emails:

I followed the directions perfectly, copied the "guaranteed to get links" email templates and found a ton of those pages.
It was brutal doing all that Googling and then recording them in Google sheets. Then came sending out the emails.
But, I figured if this is what the gurus said to do, they had to be right. Right?
I used Gmail's canned email feature to send over 200 semi-personalized emails.
I probably spent 20+ hours on it, in total.

And when the dust settled.
I got three links.
THREE.
On low-level websites.
On low-level websites where the links don't even exist any more (if the websites even do).
It turns out nobody wants your infographic. Nobody wants your spam emails.
All of that work for nothing.
And that's when I started to think there might be a better way.
Maybe that sort of outreach works if you have a marketing blog and are trying to get links from other marketing blogs, but that wasn't my goal.
If I wanted to build links for something really competitive, how many of those spammy emails would I have to send? If I got a high-end SEO client and we assessed they'd need 500+ links to be competitive, that means I'd be on the hook to send 33-THOUSAND emails.
Nope.
Full stop.
Like you, I'm in this to do the hard work now and reap the benefits later and I just didn't see how sending thousands of emails would get me there.
But then I heard Noah Kagan talk about a book on the Tim Ferriss Show.
So, I read the book (The Ultimate Sales Machine by Chet Holmes) and I took a few notes.
Later, Noah would create a few blog posts about the book, bringing it back into my ecosystem.
Much later, I'd hear Russell Brunson reference the same strategy I'd taken notes on from the book.
But it wasn't until the whole process came full circle that I had ears to hear.
Glen Allsopp, who I've already mentioned above, and I were on a call and he reminded me of this strategy that not only works for sales, networking, and marketing, but also for link-building and everything in between.
This strategy was called "The Dream 100."
Dream 100: The Link-Building Method That Works Forever (2020 and beyond)
There was one story in Ultimate Sales Machine that really blew me away:
Chet Holmes explains that he was in charge of booking more advertisers for a magazine. There were 2,200 possible advertisers and after some research, he found 167 of them bought 95% of the ads in the industry. He took the outreach budget for the full 2,206.670 and used it to target the 167. Within 6 months, 29 of them were advertising in the magazine.
By focusing only on his dream clients, instead of every possible client, Holmes was able to focus his efforts.
That sounded an awful lot like a really high ROI on outreach to me and I figured it could be applied to link-building (spoiler alert: it can and as I'll explain below, it's 100% how I do outreach now).
Whether you started SEO in 2006 (like Glen), or 2010 (like me), links have always been the name of the game.
At the core of this guide is understanding if you want to get great links to your site, they aren't going to just magically show up.
Links are harder to get than ever before with sites like Forbes no longer linking out with "follow" links (the links that count). More and more larger, authority-level, websites are going follow suit in the years to come and the link opportunities that exist today may not exist in the future.
You're going to have to go get them.
The good news is that YOU CAN.
What we're looking for in a Dream link building list is the one-hundred perfect websites to link to you. The ones that, should they all link to you, you wouldn't need any others.

Does the "relationship" approach really work?
On May 20, 2017 Glen Alsopp sent out an email announcing his new blog at Detailed.com.
When you have relationships with your Dream 100, things like this happen (over 90 new links in two months):

In short order, Glen quickly had 100 links to his new website, and the number of linking domains has climbed steadily from there. What has that done for his organic search traffic?

And it's not just Glen.  Look at what happened with links to Chris Guillebeau's Side Hustle School:

Yes, clearly having relationships with your one-hundred dream websites will absolutely change your website and business.  Even when you launch something totally new, those relationships will continue to pay off.
But what if I'm just getting started?
Starting small is actually great because your first emails aren't going to be that good.
Start by reaching out to people at your level and then repeat the process again and again.
Then, when you're ready to reach out to your Tier 2 and Tier 3 folks (more on that shortly), you can approach them with data, with social proof, AND your emails are pretty polished!
Had Ryan Holiday heard of me when I reached out to get his help to fund a classroom set of his books?
No, but he got it fully funded in a few hours and soon after I would write my first article for The Daily Stoic.
Had Pat heard of me when I reached out to share my story with him?
No, but I ended up being one of the first 50 guests on his podcast and I've written multiple times for his blog..
Literally every relationship I have online started with some sort of cold outreach. It works for everybody at every level.
A Quick Caveat
This is a tactic that has worked for my own websites, local businesses, global fitness businesses, and all the way up through startups with $100M+ in venture backing.
But, before we talk about how to put together your Dream 100 list for link-building, I want to cover one important question:
DO YOU HAVE A GOOD REASON FOR REACHING OUT?
The reason this tactic works forever is because we're first going to answer the question that everybody who receives an email from you will think:
"What do they want and why should I read this?"
If you wanted to get a link from me, you could probably just ask me for it, forgetting that I likely gets dozens of requests like that per day, or you could take a step back and consider what I might need help with right now and reach out because of that.
This mindset is crucial to understand before we make our list. We're reaching out because we have something worth sharing to people whom we're trying to help, not just to get links.

Link Building Outreach: Making the List
So do I just randomly start emailing the top people in my industry?
Not exactly.
Here's how I like to break down the first draft of my Dream 100 list of sites that I would love links from (and how I recommend you do as well):
Tier 1 (34%) – The first 33 members of your list should be websites that are at the same level as you.
Tier 2 (33%) -These are high level blogs, but not impossible to write for. Assuming you are a beginner or recently started finding success, examples here would be Smart Passive Income and Copyblogger.
Tier 3 (33%) – These are your moon shots. Your Tim Ferriss or Seth Godin.
Every one of these websites should be of decent authority (not a brand new website or one that doesn't publish any more) and directly related to what you do.
The biggest mistake that a lot of people make is reaching out to sites that either don't link out (or "nofollow" all links) or sites that aren't very active any more.
Writing down your Tier 1 websites is easy so the next question that typically follows is "How do I find Tier 2 and Tier 3 websites for me list?"
Check SEO tools – I love tools like Ahrefs where I can
Google topics related to your industry and see who ranks highly for very competitive terms
Search out a "Blue Ocean" – In this case, I don't look at direct competitors and focus on others who I share my knowledge with that will care.
Look at affiliates for products in your niche (Clickbank, JvZoo, etc.). Is there a leaderboard? These are gold for finding Dream Link opportunities.
Finally, here's my greatest tip for whether or not I'll add a website to my Dream link list: I think of it a lot like asking somebody to marry you. If I think they might say no, I'm not asking.
Reaching Out
If you're still doubting that honest relationships can build links, check out the most (non-affiliate) linked-to sites from Smart Passive Income: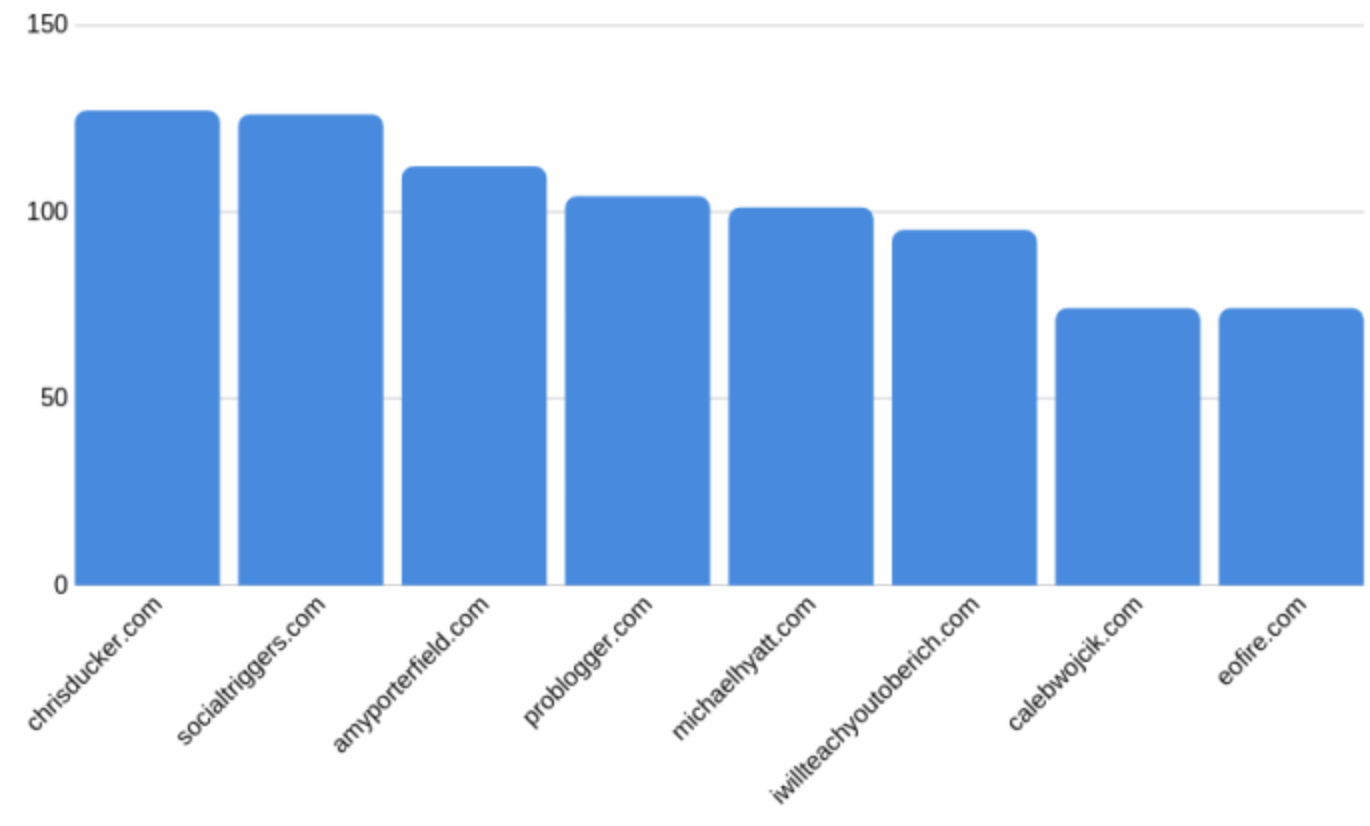 Notice a trend there?
It's literally a who's who of Pat's strongest relationships and it shouldn't come as any surprise.  If I'm writing an article and I know my friend has a great article on the topic, I'm going to link to that.
To kick those relationships off, we need to reach out.
Here are four steps to successful Dream Link Building outreach:

1. Remember your why.
BUT, the key isn't just to endlessly follow up.  It's to follow up with something that is interesting and helpful to them.
Your why has to remain to be that you have something

2. Remember their why
Most of the people you're emailing care about one of two things (typically, both):
Getting results for their audience
Making money
Make sure they know that your content will do magical things for their audience. Show also how it enhances and amplifies what that person already does.

3. Do your research.
I'll never forget when I interviewed Corbett Barr for my podcast and mentioned something where he went to school and his first job and he replied, "Wow, you really did your homework!"
Nothing impresses somebody more than showing you cared enough to really research them. Don't worry about sounding creepy. I'd rather sound creepy than send an email that sounds like a vague form letter.

4. Don't give up.
Most people email somebody once or tweet them once.
Then they give up. You have to be persistent, and you have to do your homework.
Here are a few emails that I had with Sean Blanda when he was the editor for Growthlab:

and here's his email to me when the post we worked on finally went live:

For those of us keeping score at home, that means the article took nearly a year to complete.
But what was the result of that work: a link? Yes. But also a fantastic professional relationship with Sean. One that I wouldn't trade for anything.
Relationships matter infinitely more than links. As we saw with SPI above, the links happen quite easily after you become friends with somebody.
For every 100 emails you send out (this will take some serious time if you're doing it right), expect *maybe* 30 replies. 15 will do what they say they will. 10 follow through until the end.
But you only need a few to start.
When do I stop emailing people? Either when they're totally unresponsive or they ask for money.  I don't want to waste my time and certainly don't want to build a friendship with somebody who wants me to pay for it.

The Dream Link Building Outreach Email Template
I'm loathe to include a sample email script in this article for fear that people will forget to customize it appropriately. Remember, that is my biggest gripe with the 2014 method of link outreach: simply saying "send them an email and get links" is woefully inaccurate.
If I absolutely had to break down the basics for great Dream link building outreach, the first email should include:
I would show them that I know them and what's important to them right away.
Tell them who you are, why you're interesting, and prove you can help them.
That's it.
It is simple but it is NOT easy.
Nothing about you. No ask. No pitch. Just connection and an honest attempt to start a friendship.
Next, we'll take a look at what that looks like, beginning to end.
A Walkthrough of this Link Building Strategy
I want to show you how this looks, end-to-end. Far too many examples show how things work in the marketing niche and, frankly, what works in the SEO/marketing niche doesn't work the same in the real world.
So let's say I had a blog about something totally unrelated to online marketing, like, gardening.
So when I start to put together my Dream Link List for my gardening blog, I want to look for sites that are related to my topic and of decent authority.
The easiest way to start this list is to google "gardening blog" and see what comes up. It looks like most results are lists of blogs, but one gardening blog stands out:

I'm using Ahrefs here (but you can easily use the free Moz toolbar with the same effect):

It appears to be of high authority (76/100) and it's definitely related to my topic. So my next step is to start considering how to reach out to them.
Looking in the footer of the blog, I can see that they not only have an email list that I can sign up for (2), but also a variety of social channels that I can engage with them in (3).

But the most interesting part is that they may feature writers on their website. Let's see where that link takes us: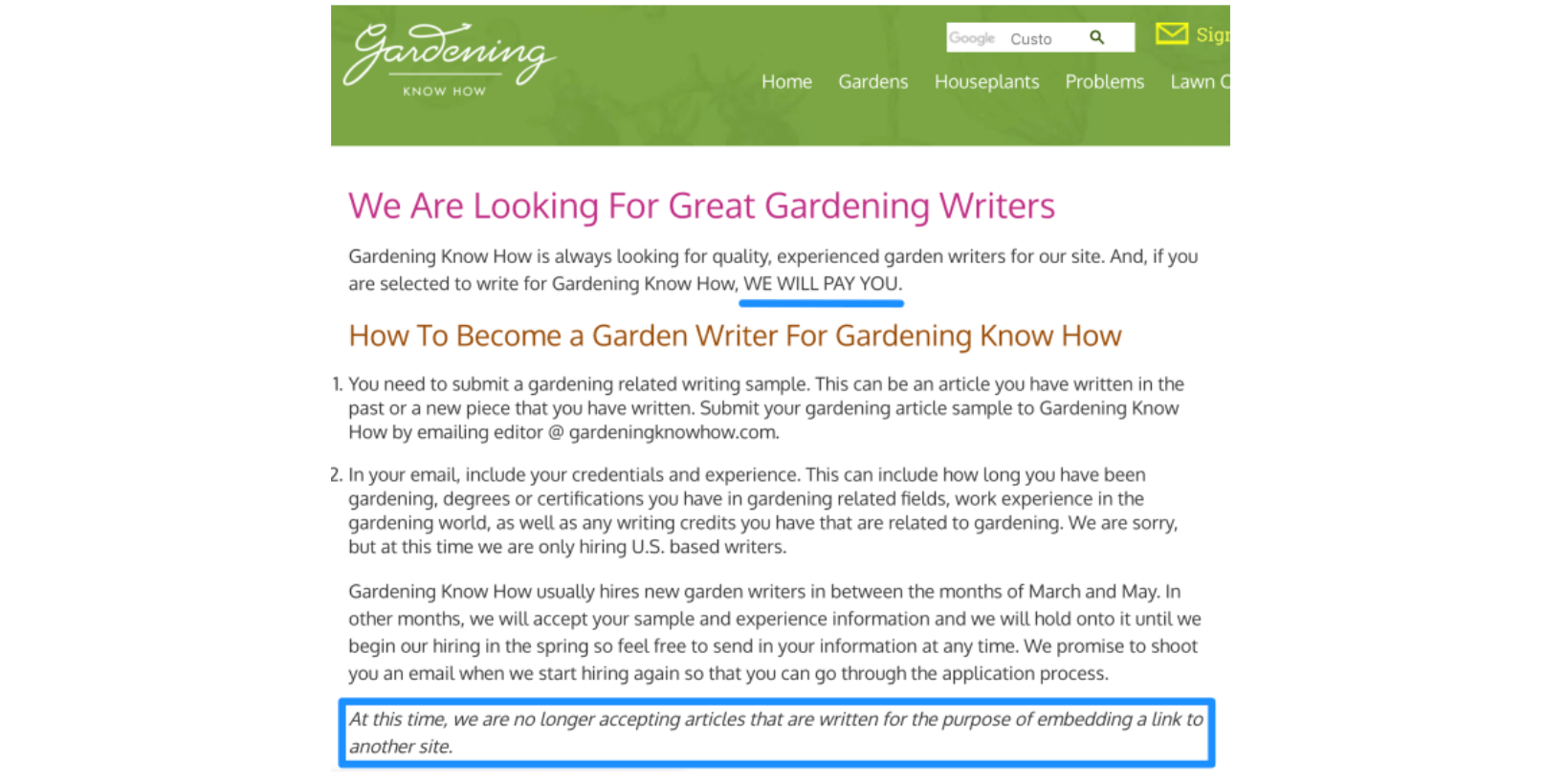 Looking further, something really stands out: They pay their writers (wow, they're serious about this. We made a good choice for them being in our Dream Link List). But also, they have no interest in working with people who just want links.
This is great. They must be INUNDATED with people using the same 2014 email template asking for links with phrases like "Either way, keep up the great work you're doing with SITE."
And they're tired of it.
So let's reverse engineer what they want from this site and give them something fresh.
A few things stand out to me:
The have ads all over the site. It must be a significant source of revenue for them. From that, I know that they need a lot of site visitors to make money.
Their YouTube channel hasn't been touched in 5 years but they have ~90k followers on Instagram and updated it yesterday. The same is also true of their Twitter.
Now, where they really shine is Pinterest where they have about 4 MILLION monthly views and Facebook with a about a half-million likes. That's significant.
They also work with advertisers and their media kit is extremely professional laying out what it takes to work with them (they'll even write for your blog if you pay them). I just have to contact Shelley (great, another person to touch base with!) to learn more.
In their 'About' page I noticed it was started by Heather Rhoades and they take tremendous pride in the work they do. I also learned they donate significantly to Kiva and to local school and community gardens (including offering a garden sponsorship program).
In fact, I could even leverage my SEO knowledge to tell them that their blog being on a subdomain (blog.gardeningknowhow.com) is killing their SEO because Google sees it as a totally separate website from their root domain.
Using Hunter.io, I checked out the emails just to see if there were any other than the editor and Shelley and it confirmed those were probably my two best leads.
Using the information above, I'd compose two totally separate emails because the editor and Shelley have very different "why's."
Repeating this process 100 times may take me 50-100 hours.
Again, why am I taking so much time with this?
This company could be potential affiliates of mine in the future, they could come on my podcast, or ask me for help when they start their own, or a myriad of other things beyond just getting a link.
This tactic is, in my mind, the strongest link-building strategy out there, but it's also so much more.
When you focus on the relationships first, everything else is much easier.
It's way better than the strategy I used to use that took 20+ hours and resulted in zero links and, worse yet, zero relationships.