Exactly how many times has SEO died?
To date, SEO has died 22 times.
Pretty much everything has killed SEO at some point:
Social media
Google ads
Alexa
apps
every Google update, etc.

According to Ahrefs, SEO has died 4,852 times since January 2016.

And Google Trends says it's about to pass away again any day now.
---
SEO Obituary Stats:
Most recent death:
Less than Half of Google Searches Now Result in a Click – SparkToro
Oldest notable death:
SEO is Dead – Shoemoney (2005)
First death of SEO:
Richard Hoy is often credited with the first online obituary for SEO (November 1997):
"I'm beginning to believe that search engines are a dead-end technology and fretting over where your site comes up is a big waste of time. I'm now advising clients that we create good META tags, submit the site and then forget it." – Richard Hoy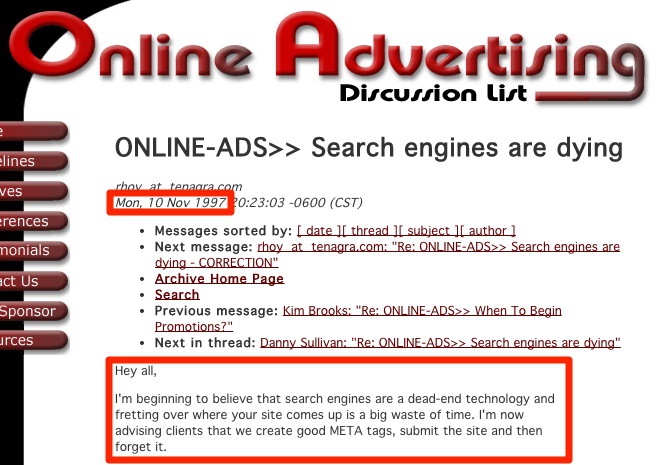 ---
Found an SEO obituary?
---
Notable SEO Deaths by Year (last 10 years):
2019 – 1
2018 – 1
2017 – 1
2016 –
2015 – 3
2014 – 5
2013 – 2
2012 – 1
2011 – 2
2010 – 1
2009 –
---
The Most Popular SEO Obituaries
2019
Less than Half of Google Searches Now Result in a Click – SparkToro
The Death of Google Search Traffic and What It Means for Marketers – Social Media Examiner
2018
SEO: Is It Really Dead? – Forbes
2017
SEO is dead (for real) – Medium
2015
Priceline.com CEO on the Death of Search Engine Optimization – Skift
SEO is Dead and Google is responsible for killing it – Medium
2014
SEO is Dead: Long Live OC/DC – CopyBlogger
The decay and fall of guest blogging for SEO – Matt Cutts
SEO is Dead! Here's What You Should be Doing Now – Red Website Design
2013
SEO is dead. Long live social media optimisation – The Guardian
SEO is dead – no really this time – it apparently might be – Smart Insights
2012
The Death Of SEO: The Rise Of Social, PR, And Real Content – Forbes
2011
SEO is no longer a viable marketing strategy for startups – cdixon
Is SEO DOA as a core marketing strategy? – Reuters
2010
2010: the year SEO isn't important anymore? – Robert Scoble
2007
Why people hate SEO… (and why SMO is bulls$%t) – Calcanis
2006
SEO Copywriting is Dead – Copyblogger