But, Brendan, I've been "doing the SEO" on my website.
I don't understand why it's not working…
About three months ago, I made a little comment in the PS of my newsletter:
"Also, in so many of those threads, people mention plugins (like Yoast) interchangeably with SEO.

I'd be remiss not to mention that those plugins (despite big promises) do nothing significant for SEO other than helping you define a meta description."
For many folks, "doing the SEO" means making the lights green on their SEO plugin.
A few people replied to that email that they were surprised since these plugins advertise themselves as "SEO" and also make broad claims to help you improve rank.
I even did an analysis of why the homepage of one such plugin (Rank Math) was a misleading (at best) or a scam (at worst).
Oh, I am so glad you asked! [a thread] https://t.co/x2nfruEzWk

— Brendan Hufford (@BrendanHufford) March 10, 2019
But here's what inspired this article:
"Your keyphrase or its synonyms do not appear in the first paragraph"

Writers at @Google can you tell your SEO team this constraint makes for a deeply shitty introduction?

— Margo Aaron (@margoaaron) May 3, 2019
I replied to Margo (and lots of others) that plugins like Yoast, and their recommendations, don't do a darn thing to help with SEO. They also, from what I see, make for very bad content (when you follow their recommendations).
Such a brilliant piece of advice from @JoelKlettke in his interview with @RossHudgens of @siegemedia. Don't let your SEO plugin or thinking a single keyword optimization is your ticket to success or total doom if it's wrong. It's neither. Learn more: https://t.co/LPSHW6tcsW pic.twitter.com/5DdPlbdbPX

— Brendan Hufford (@BrendanHufford) November 18, 2018
(Note: I use Yoast, here. These plugins do many "helpful" things for a website, but not anything that drastically affects rank).
"SEO" Plugins do not improve rank or traffic
Once you realize that the majority of marketing advice on the internet (this is especially true of SEO) comes from people reading blog posts and then writing blog posts without ever actually doing any work….
Once you realize that, you see how these "best practices" like making all the lights green in your SEO plugin seem to become the norm.
This study from ahrefs is helpful in understanding things: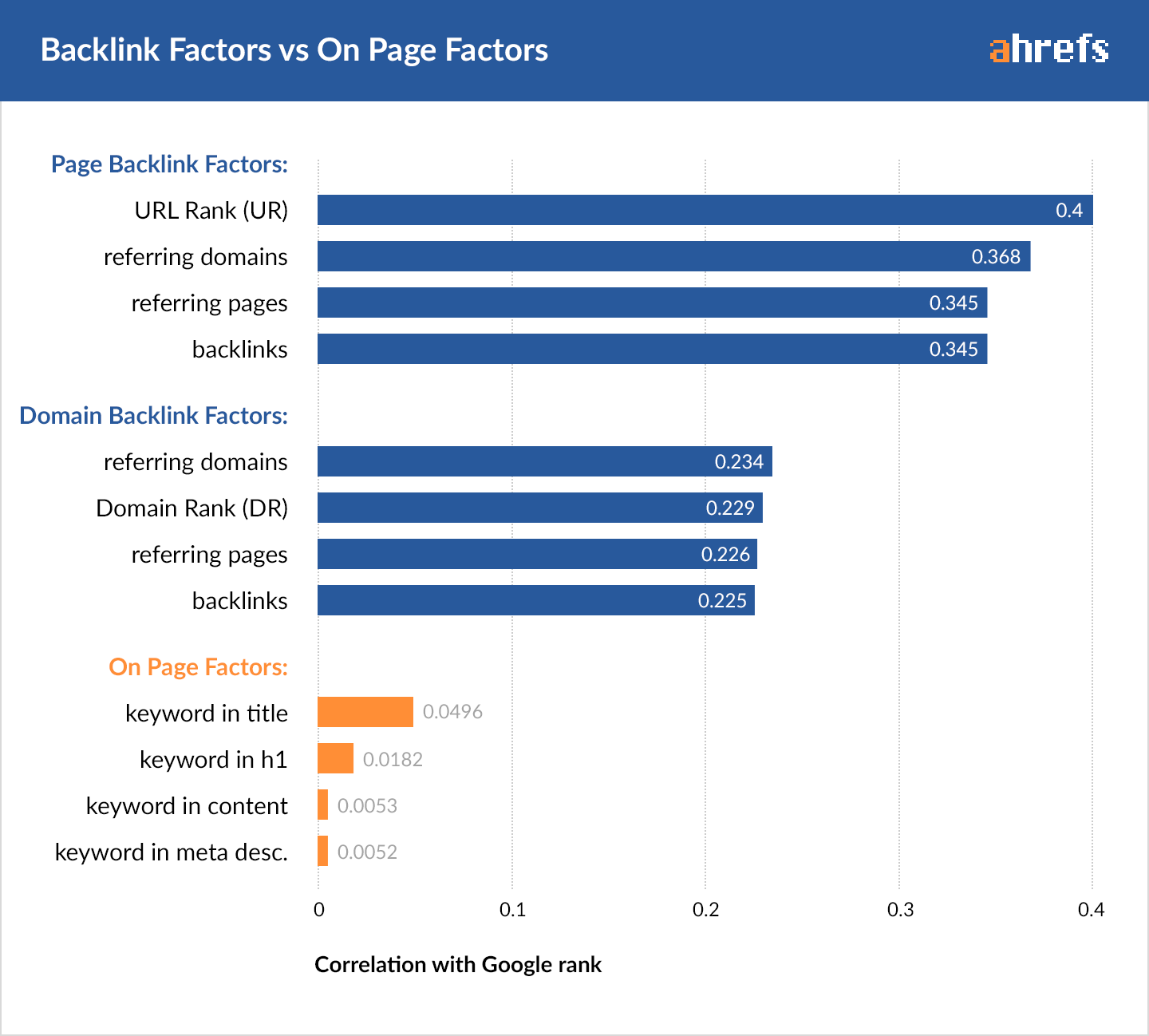 The things that are really going to help you rank are three-fold:
Do you have good links pointing to your content?
Do you have good links pointing to your website in general?
Are you writing about the topic you're trying to rank for (and thus, is it in your title, content, and meta description)?
And that's it. Other than the content and how well it matches the intent of the search, these are the things that most directly correlate with ranking well in search.
NOT using a keyword in the first paragraph like you're in second grade.
Ew.
So now, go enjoy your day! BASK in the freedom of knowing you can have better first paragraphs in your blogs.
Having data to point to for this is a huge relief. I'm in the process of an SEO audit of my website and I can't wait to make my first paragraphs so much better.

— Kyla Roma (@kylaroma) May 3, 2019
Feeling liberated?
Now just imagine feeling like that every day, knowing you're wasting ZERO time, and only doing the SEO things that matter. 👉 Join us.