Unpopular opinion: Everybody saying search intent is about: informational / navigational / transactional / commercial….
is wrong.
The guides that say you can classify based on certain key words in the query….
also wrong.
Here's why…
What is Search Intent?
The guides that claim they can be broken down into informational / navigational / transactional / commercial (INTC) miss the entire nuance of things within those differing levels. Here's what I mean…
If a search query has "informational" (again, a bad term to use. I'll give a better one shortly) intent, that's great. But what do I write? Do I talk about my product or not? How to I keep the person reading? No amount of content gap analysis will get me there.
I haven't read one guide that explains how to write for that user intent. Based on the intent:
What do people need to know to move forward?
What do they move forward to?
Both of these answers can be found in a single book…
What they're missing is the cues from the copywriting industry, specifically from Breakthrough Advertising by Eugene Schwartz (first shared with my by Joel Klettke).
Prefer video? Check this out. Otherwise, keep readin'!
Here's what Search Intent in 2020 ACTUALLY looks like:
The chart below is what we really need to be talking about when we speak about user search intent because it lets us see deeper into what people want (both in information and in their own emotional response) when they're searching.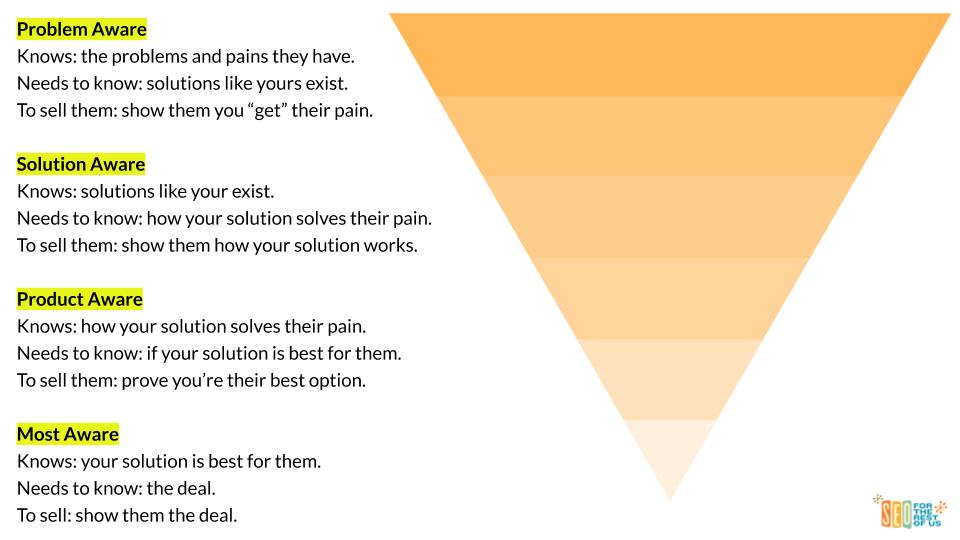 The skills of copywriters are quickly becoming must-learn skills for every SEO.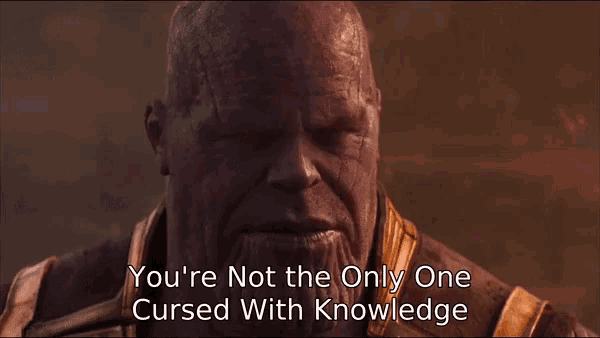 For the record, I am 100% here for Joshua C. Hardwick breaking down the intent of every possible variation of search around "protein powder." I think we even chatted about that example in our 100 Days of SEO interview.
I'll give you a final example to make my point:
A Search Intent Model Gone Wrong (Example)
Under the INTC model of search intent, a search like "how to hire the best web designer" is going to confuse the hell out of you.
informational – how
transactional – hire
commercial – best
navigational – web design
So which is it?
And then what do I write?!?!?!
MASS CONFUSION ENSUES.
But let's look at it another way. Here's that helpful chart again: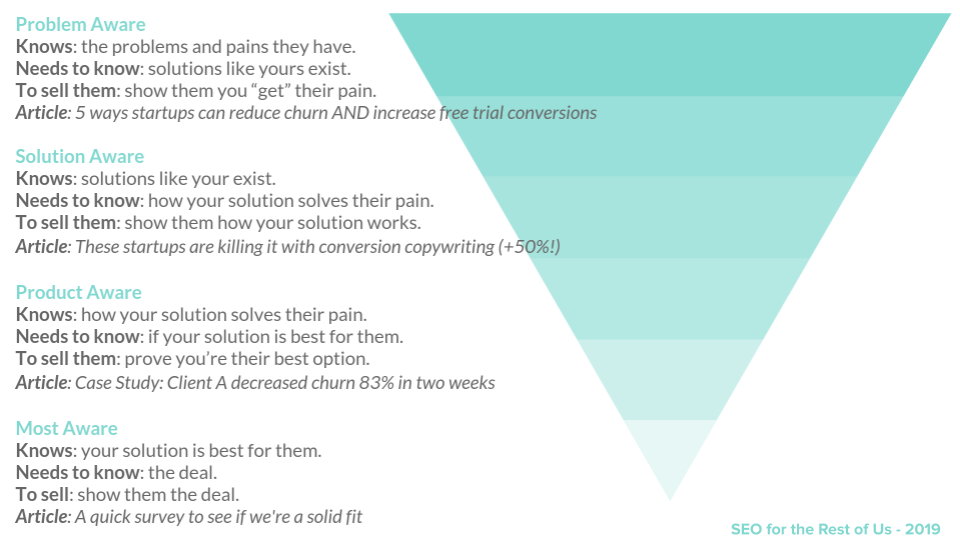 I'd wager that, with a search like "how to hire the best web designer," the person is past the "problem awareness" stage because they know a solution like a web designer exists.
Also, I think they're past the "solution aware" stage because they already believe that a web designer is going to solve their pain points.
Under this model, the searcher knows how a web designer will solve their pain and is trying to decide between multiple options. While our article could give them criteria for choosing the best, we also need to prove to them we're their best option for web design.
The goal of our article is to prove this using a case study, testimonials, etc. and then move them into the "most aware" stage and show them the deal.
Everyone's talking about user intent in relation to content and keywords, nobody's talking about context. I think context (generally in relation to the purchase journey) is just as important. If you don't understand context, how do you know what the intent is in relation to?

— JH Scherck (@JHTScherck) July 12, 2019
Finally, if you want to learn SEO in a way that makes sense, including an exact walkthrough of user search intent in a way that actually HELPS you know what you write on a post/page..
Click here to join us as a part of the One Ranking Away challenge!
Also, if you want to read a GREAT breakdown on the Eugene Schwartz levels that I've been talking about, this article (and the 10 new tabs it'll make you open) from Brian Clark is fantastic.